About City Life Church
We are City Life Church, a family of churches. Erald and Mathilde are our senior pastors. Their home base is City Life Church in The Hague, where they also reside. They have two adult children: Jozua and Lydia, and four grandchildren.
Erald and Mathilde own a profound desire to help others with:
– getting to know God personally;
– experiencing freedom; and
– making all the difference to everyone around them.
In the 3-part series of sermons called "3D" we share more about the "why" of our church: from both a joint and an individual point of view. Why are we here? Why are you here? What is God's plan?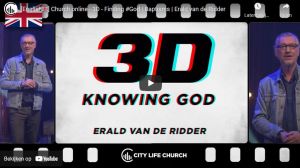 Locations
As a growing church, you can find a City Life Church in more and more places in the Netherlands and Belgium. We are looking forward to meeting you! Find a City Life Church near you.
Our services
We are a modern church and enjoy our services in a contemporary way. Our music is energetic, our speakers encouraging and the atmosphere relaxed and full of expectation. A service takes approxi-mately 90 minutes. After the service we meet up. Please join us for a cup of coffee or tea and something tasty.
Most locations offer a translation from Dutch to English during the service and through a You Tube livestream. We also offer connect groups for English speakers.
Kids' Church
Investing in new generations is important to us. Every Sunday our enthusiastic team is ready to ensure that your child has an amazing time in church. We offer a place where they can hear about Jesus and make friends of their own.
Our DNA
City Life Church uses 12 values to distinguish the kind of church we want to be. Those are the DNA of our church and the starting point for everything we do.
1. Jesus at the core of everything
2. We live for God's plan, not our own
3. We help others follow Jesus
4. We value and respect others
5. We prefer serving with a joyful heart over being served
6. We build families
7. We build relationships on a personal level
8. We are welcoming
9. We prefer serving leadership over independence
10. We are generous givers, happy to contribute to church life
11. Average is not enough, we believe in excellence
12. You play an important part in God's plan and the bigger picture.
Our vision
We would like to:
– reach out to and influence our world by building a huge, growing and inspiring church where generations will get to know and love Jesus, His congregation and the Bible;
– be an appealing home full of passion where God loves to work amidst His people;
– be a church where renewed thoughts result in people living changed lives in God's promises. Where people grow in love, leadership and influence, in God's home as well as in any other area in the world around us.
Vision for our local churches
We are a modern, dynamic church with Jesus at the core of it all, reaching out to the world around us. We love the Bible and wish to build people up and inspire them to make changes in every aspect of their lives. We are here to help others find God, help them experience freedom and make a difference.